Games For Troops is proud to work in conjunction with the following retailers/corporations to further our charitable mission. When you visit one of these partners, please thank them for their efforts!
---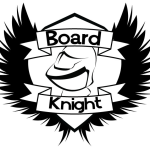 Board Knight is a retailer of board games in Decatur, Illinois. They donate 2% of their sales to Games For Troops.
---
If you are interested in becoming a Games For Troops Partner, please fill out this form and we will contact you with details.
Please note:
We encourage your interest and support, but approval of your fundraising campaign will in no way constitute an endorsement, express or implied, of your product, service, company, opinion and/or political position.
Fundraising activities that support the Games For Troops mission and strategic initiatives will be considered. Please understand that Games For Troops cannot approve requests that promote the sale of any items that could be considered, by the ordinary person, to be in bad taste or inconsistent with our mission or the fundamental principles of Games For Troops.